Oregon's renowned public lands offer Oregonians a unique and special lifestyle and provide our state with a  natural legacy–picturesque beauty, diverse wildlife, wild rivers, snow-capped mountains, lush forests–that is the envy of many. Public lands are one of the defining aspects of this great state, and iconic national forests and parks are often the go-to for Oregonians mentioning their favorite getaways.
What about our state-owned jewels in north west Oregon? The Tillamook and Clatsop state forests are not on the cover of Oregon travel and destination magazines or profiled by national media, but these forests–logged, burned and now recovering–may be Oregon's best place to offer a little something for everyone. A trip down Highway 6 illustrates why…
Just past milepost 35 (a 30 minute drive from Hillsboro) is beautiful Gales Creek. This tributary of the Tualatin River offers a great spot for the family to camp, play in the creek, and explore the nearby douglas fir forest.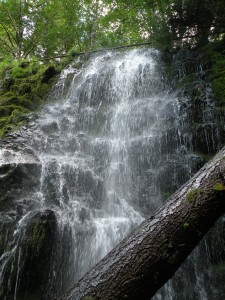 Two miles down the road (milepost 33) is the southern turnoff to University Falls Trail. A short walk will take a photographer and plenty of gear to a curtain-like falls that captures light beautifully and pours into a bundle of downed logs and beautiful pools.
Near milepost 28 is Elk Creek Trailhead and Campground. Options here are abundant: splash around in the Wilson River, find a cool spot and set up the hamock, or start the long haul up the Kings-Elk Mountain traverse. A safe bet is hopping on the mountain bike and heading down the awesome Wilson River Trail.
Three miles down the highway or the trail is the Kings Mountain Trailhead. This iconic coast range hike is a quad killer–the trail climbs 2,546 feet in just 2.5 miles. From the summit (3,226 feet) one can see the Pacific Ocean and Mount Hood.  Spectacular!
At milepost 23 the whole family can take a break from the heat and find the Jones Creek Campground. This very accessible spot features just about anything you'd want on a hot summer day. The feature is deep swimming holes, warm basking rocks rocks, and sandy beaches.

The Footbridge Trailhead at milepost 20 (and along the Wilson River Trail) is the beginning of some great spots for fishing. Though the water will be low during summer months, a patient angler can pursue cutthroat trout or hatchery summer steelhead, though catch-and-release fishing can stress out native fish in low water.
The Wilson River Corridor (and all of Oregon's state forests) are worthy of long term conservation considerations and we have identified two great proposals along this awesome corridor: the Kilchis & Wilson Rivers Conservation Area and the Kings Mountain Recreation & Conservation Area.
Click here to support these proposals!
Spend some time in these spots this summer. Find some peace and relaxation. Share pictures and help tell the story: #WilsonRiverFun #ORStateForests. Check back frequently, this is just a taste and we'll be exploring these spots (and others) more in upcoming posts.
On September 5th, join us on the Wilson River for a celebration of these lands.